Page 1 - Nigel Ward and Co Catalogue 6th October 2018
P. 1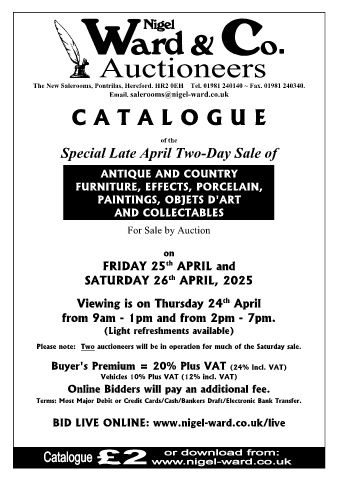 The New Salerooms, Pontrilas, Hereford. HR2 0EH Tel. 01981 240140 ~ Fax. 01981 240340.

                             Email. salerooms@nigel-ward.co.uk

     CATALOGUE

                                                        of the

         Special Early October Sale of

                    ANTIQUE AND COUNTRY
            FURNITURE, EFFECTS, PORCELAIN,

                   PAINTINGS, OBJETS D'ART
                        AND COLLECTABLES

                                                For Sale by Auction
                                                  to be held at the

          NEW SALEROOMS, PONTRILAS

                     (Just off the A465, midway between Abergavenny and Hereford)

                                           on

SATURDAY 6th OCTOBER, 2018

                           commencing at 9.30am with Outside Effects
                                     and 10.00am with Miscellanea.

 Viewing: Friday 5th October from 2.00pm – 8.00pm
               and Morning of Sale from 8.00am

Please note: Two auctioneers will be in operation for much of the sale.

   Ample Parking is provided on site and we would be grateful if you could park sensibly
                                       and not block any access ways.

           Buyers Premium: 20% including V.A.T.

                Terms: Most Major Debit or Credit Cards/Cash/Bankers Draft/Electronic Bank Transfer.

                 Proceeds from the refreshments will be donated to:
                                         Local Charities.